Bulk SMS
The rise in competition and the constant need to remain in communication have provided a huge impetus to utilizing bulk SMS as a marketing tool. Our bulk SMS services enable companies and people to be in direct contact with their clients, employees, team members, suppliers, etc.
Through our web-based interface, you can send bulk SMS and import contacts. In addition, we also integrate our SMS service with your website or any software or application.
Advantages
- Low cost
- High return on investment
- Highly targeted
- Personalized
- Faster and more flexible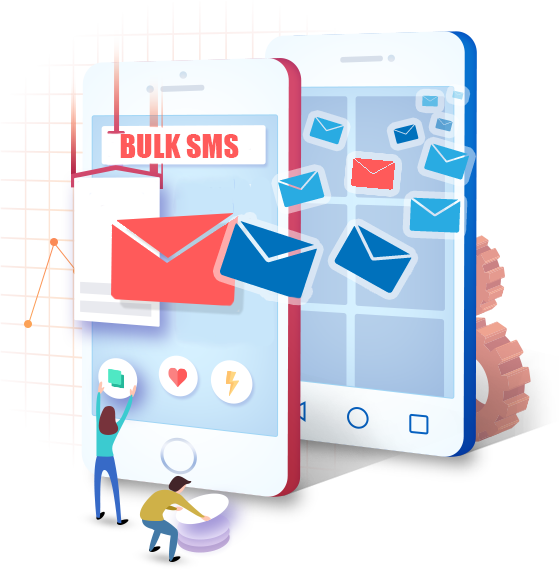 Promotional SMS
Promotional SMS is used for marketing and promoting products and services.
A few instances where Promotional SMS can be used are:
1. Brand Awareness
2. Brand Launch
3. Brand Promotion
4. Product Marketing
5. Events
6. Sales Discounts and Offers
7. After Sales Follow Up
Features:
- Send SMS in multiple languages
- Customize SMS
- Schedule SMS
- Delivery reports
- Contact management
- Create groups
- Send group messages
- Upload CSV, Excel, TXT Files
- Automatic DND Filtering
- Integration of SMS API with existing applications, websites or software
- SMS can be sent between 9AM – 9PM only
- Dynamic and robust SMS gateways
Transactional SMS
Transactional SMS is used for dispatching information necessary for using a product and/or service.
A few instances where Transactional SMS can be used are:
1. Messages regarding account status or credit card purchases
2. Ecommerce alerts like order status, shipping status, delivery details, etc
3. PNR Status
4. Alerts/notifications to parents/guardians of students from educational institutions
5. Alerts/notifications to employees from employers
6. Registration and validation codes
Features:
- Sender ID
- Send SMS in multiple languages
- SMS templates
- Schedule SMS
- Customize SMS
- Delivery reports
- Create groups
- Contact management
- Upload CSV, Excel, TXT Files
- No DND filtering
- Integration of SMS API with existing applications, websites or software
- SMS can be sent 24X7
- Dynamic and robust SMS gateways